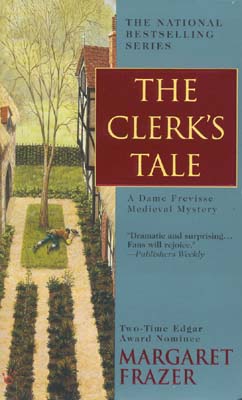 I recently finished The Clerk's Tale by Margaret Frazer. This is one of several books following a medeival nun who has a nack for being a murder scene magnet much like the modern day Jessica Fletcher. The nun, Madame Frevisse, notices details and asks questions that unravel the mysteries wound through her life and the rest of the 15th century characters around her.
I noticed quickly that this is not the first book of the group, but each story can stand alone without a problem. The plot slowed down quite a bit through the middle helping me build up a hefty library fine. I would suggest starting on a different book because other reviewers said this story was unusually slow for the series. Despite the crawling pace in the middle, I think the rest of the story and intriguing setting are worth getting lost in. I enjoyed getting to know the characters and their struggles with life, spirituality and mortality. Other than a slow moving plot, the only negative I would really mention is the horrible editing. There were mistakes throughout, which could get distracting.
For my full Fall Into Reading List
click here
.
~Deanna~